"Mackie Morris is a powerful, sensitive, and effective coach/mentor who will help you link emotions, technique, and message to improve your communication from Day One . . . and he will have a lasting, positive influence on your personal development, leadership, and team accomplishments over your lifetime."
– Mike "Red" Redenbaugh, former CEO Bell Helicopter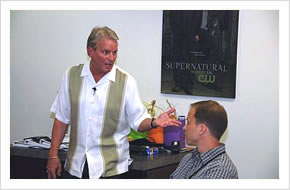 Photo by Dow Smith
Few if any Communication consultants match Mackie Morris' experience and accomplishments in guiding clients' successful strategic planning while also leading their tactical application of those strategies. Likewise, few if any Media consultants can match Mackie's 40-year record as a journalism and communications seminar leader, teacher, coach, and practitioner.
In November 2001, Mackie founded Mackie Morris Communications™ as a way to respond to his growing clientele among Fortune 500 companies across the United States and to serve media outlets throughout the world.
Mackie works with key executives to enhance their communication skills, honing their ability to give media interviews and perform in-person presentations. He assists client companies with all manner of events, from shareholder and stock analysts meetings to management retreats to divestiture presentations and sales meetings. He also trains a wide array of non-media individuals, including politicians, professional musicians, professional athletes, and law enforcement officials to enhance their Executive Presence.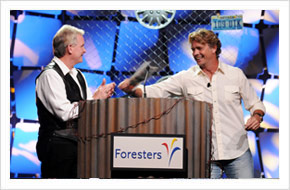 Photo by Children's Miracle Network
A specialist in speech-making, PowerPoint™ creation and presentation, writing, storytelling, production, and performance, Mackie has conducted on-site Communication seminars for more than 300 client companies and TV stations in the U.S. and abroad. Overall, Mackie has taught Communication skills on five continents and is a frequently featured speaker before professional organizations of many types.
It is safe to say Mackie is the most sought-after Communication seminarian ever.
---
"Mackie is a true professional who consistently delivers positive results to the individuals and corporations he works with." – Bruce Culpepper
Executive Vice President Human Resources and Regional Coordination
Shell Americas