Hundreds of clients,
three decades of helping them all be great!
Consultation, Training, and Coaching in:
Communication Skills
Media Strategy
Media Performance
Executive Presence
Leadership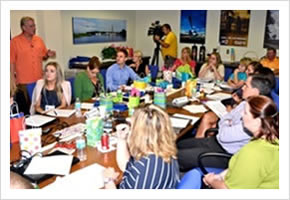 Photo by Dow Smith
Group Presentations
Speechmaking
Cosmetic Appearance
Interpersonal Communication
Change Management
---
Corporate Clients
AEGON NV
AEGON USA
Amegy Bank
Bell Helicopter
Boeing
Children's Miracle Network
Cigna
Dallas Symphony Orchestra
Deloitte LLP
Department of Homeland Security
EG&G
Equiva Services
Goldman Sachs
Honeywell
IBM
Illinois Department of Corrections
IntegraSys
Landmark Aviation
Lockheed Martin
May Company
MDS Inc.
Merrill Lynch
NASA
Nordam Inc.
PerkinElmer Inc.
The Secret Service
Shell OPUS
Shell Chemicals
Shell Global Exploration & Production
Transamerica
U.S. Small Business
Administration
---
Media Clients
ABC-Disney Television Stations
Antenna Television (Greece)
Armed Forces Radio-Television
BBC
BITV (India)
Belo Corp
Bonneville Broadcasting
CBS Television Stations
Channel Four (U.K.)
Chinese Television Service
CNBC
Cox Broadcasting
Dispatch Broadcasting
Granada TV
Hearst-Argyle
LIN Television
London Weekend Television
NBC Television Stations
The Nashville Network
Network Ten (Australia)
Scottish Television
TV-2 (Norway)
TVNZ (New Zealand)
Telemundo
and more than 125 other local U.S. television stations.
---
Individual Clients from
Professional Sports
Politics
Law
Media
Corporate Business
The Performing Arts
---