Read how his clients feel
about Mackie . . .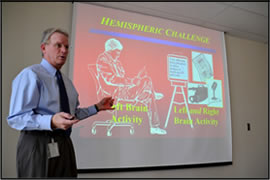 BRUCE CULPEPPER
Executive Vice President, Human Resources
and Regional Coordination, Shell Americas
On numerous occasions over the past 10 years, my organization has needed external expertise to supplement our leadership development efforts in the area of Executive Presence and Communications. Mackie Morris has worked with us to perform in-depth needs assessments and deliver tailored communication and leadership interventions for selected individuals. I have also engaged Mackie on a number of occasions to provide "just in time" coaching for executives preparing for critical external speaking or other engagements.  Mackie is a true professional who consistently delivers positive results to the individuals and corporations he works with.
CRAIG SORENSEN
Chief Marketing Officer,
Children's Miracle Network Hospitals
Mackie has been a long-time friend of mine and a long-time supporter of Children's Miracle Network Hospitals.  
As an executive coach, Mackie has helped me achieve both my professional and personal goals. His work with me has been both insightful and practical. His broad wealth of experience in presentation, speaking and presence has proven invaluable. Through Mackie's coaching I have improved public speaking and one-on-one interactions.  When you're looking to present your best, Mackie is an incredible resource.
For many years, Mackie trained talent from hundreds of local television stations in their efforts to save lives through the Children's Miracle Network Hospitals telethon. Mackie's experience in storytelling and empathy building have helped raise hundreds of million of dollars for children's hospitals. Mackie has the ability to connect with talent from the largest markets to the smallest and everyone comes away feeling his training was designed specifically for them.
STEPHEN DeFALCO
CEO, Crane & Co., Inc.
Mackie always proved to be a valuable contributor when my companies pursued M&A opportunities or during divestitures. I hired him to assist me and my team across the full project, from helping us define and focus our messaging, to joining us in creating our group presentations, to engaging in intense one-on-one coaching so that each individual performed at peak level. Mackie goes beyond traditional consultation. He becomes part of who we are and what we do. I think he's outstanding.
CORPORATE COMMUNICATIONS LEADER
Global Insurance Group
Mackie responded immediately when called upon to assist us with challenging media relations issues. He is a quick study and he's experienced in preparing well thought-out responses that include anticipating next steps. Mackie also provided practical tips and helpful one/one coaching in this area to several of our executives.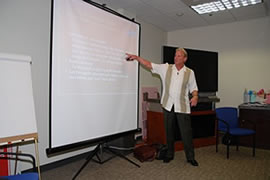 Photo by Dow Smith
RICHARD F. WALSH
Retired Senior Vice President and Chief Administrative Officer
PerkinElmer, Inc.  (NYSE: PKI)
(Approx. $2Billion in Revenue; 10,000 employees globally during the time of his work with us)
Mackie worked with our company over an 8-year period, preparing our Senior Leadership team for presentations and executive communications to large and small audiences; his work was always first class. Typical projects Mackie assisted with included: preparing 25 executives for presentations to over 100 company leaders during our annual Senior Management Meeting; working with our CEO and Corporate Officers preparing speeches and discussions/ Q&A for our annual investor meeting with 50 - 75 Wall Street Analysts; helping with executive communications during M&A and divestiture activities.  Mackie's work was "hands on"; he truly rolls up his sleeves working closely with leaders and executives in creating messaging, fine tuning power point presentations, coaching one-on-one and coordinating the flow of activities at meeting venues. Mackie added significant value to our numerous meetings throughout the year; this was borne out by feedback from audiences. However, when I think of the true long-term value Mackie added to our business it was the instrumental role he had in developing our leaders by giving them exceptional skills training and building confidence in the very critical area of executive communications. He is totally dedicated to his profession, his clients and his projects, and he is an absolute pleasure to work with.
TIM MAHONEY
CEO, Honeywell Aerospace
Mackie Morris is a franchise player in the personal coaching and communications arena. I have taken advantage of Mackie's expertise for over 10 years spanning numerous sets of responsibilities. His services have been in the form of training, guidance and coaching in a broad array of applications. Our journey started with training and coaching as an individual contributor on a very specialized project which required high influencing expertise. Ultimately this progressed to a much broader communicator as the CEO of a 40,000 employee organization. Mackie's expertise and impact on me has exceeded my expectations, bridging all the communication venues that I have experienced. Mackie's success is realized by the coupling of his tremendous expertise and experience in his craft tailored to an individual's specific needs. I've always walked away from focused sessions with Mackie with more expertise, facility, and confidence on how to reach my audience more impactfully.
JOHN FINK
General Manager, KFVE-TV Honolulu
We worked with Mackie Morris over a period of years and had a really good experience with Mackie. One of the great things about Mackie reminds me of the old saying, "You don't have to have been a great player to be a great coach, but it sure helps to have been a player." One of the things we always appreciated about Mackie was that as a former on-air talent, he really could be empathetic in helping us work with our news people and our news crew in terms of not only taking the research and putting action plans in place, but also knowing what it was like to be in front of the camera. Mackie was very thorough in his analysis of the research, he was very helpful in working one-on-one with our people, and he was very good at giving us an overall picture about what we needed to do to improve our positioning in the market place. Overall, we had a great experience working with Mackie and I think he's one of the best in the game.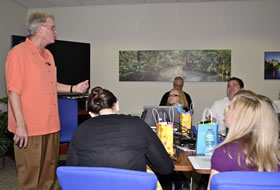 Photo by Dow Smith
MIKE "RED" REDENBAUGH
Former CEO, Bell Helicopter
Mackie Morris is a powerful, sensitive, and effective coach/mentor who will help you link emotions, technique, and message to improve your communication from Day One . . . and he will have a lasting positive influence on your personal development, leadership, and team accomplishments over your lifetime.
Sound advice and guidance, with a structure that allows it to be effectively applied, is very hard to come by.  Mackie Morris is a man with a unique and powerful talent to help Leaders become more successful through personal growth, individual communication and improved Team Performance. 
I met Mackie more than 15 years ago as part of a Leadership Development program at AlliedSignal Aerospace.  From the first meeting, I was impressed the depth of his insight and ability to leverage both technique and emotion to improve communication.  Mackie's guidance and methods were effective and I leveraged them throughout my personal life and aerospace career that included being the CEO of Bell Helicopter.
Mackie has an assessment process that identifies a manageable number of specific areas to strengthen your communication at all levels. Communication is the cornerstone of good leadership; if the folks on your Team don't "get it", you lose your organization. Mackie is skilled at listening, watching, then suggesting specific techniques and processes that have an immediate impact on communication, and he reshapes the plan as your skills/demands change. He is sensitive to effects on your communication of relationships, emotions, and settings/situations and so helps you blend the factors to enhance your skills.  I can say that Mackie was vital in helping me leverage emotions like passion, urgency, commitment, and empathy with sound communication techniques to help me be a more successful Leader.
In addition to powerful individual communication coaching skills, Mackie is also an effective mentor to improved Team Performance.  He has a sharp eye and ear for assessing how both the Leader and overall Team are interacting to achieve the desired goals.  This relates to both communication and behavior.  He understands how to look at a Team from several vantage points, respect confidentiality while blending various inputs to help the Leader and Team reach the goals. Mackie uses the various tools, along with his years of experience and the specific objectives of the Leader, to make an impact.  As a mentor, he can be candid and sensitive as he blends the importance of looking at individual, team and the actual results to help you improve.
Mackie is a great coach, mentor, and confidant who will have a profound impact on all your accomplishments and goals.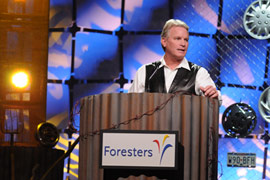 Photo by Children's Miracle Network
ROGER COOK
Vice President, Children's Miracle Network Hospitals
Children's Miracle Network began as an annual telethon that, in its prime, was broadcast on a syndicated network of 200 television stations. Mackie Morris conducted several all-day training sessions for the producers and on-air talent of these stations regarding topics like story-telling, making a compelling ask, and keeping it real in front of the camera.
Of all the presenters we've ever hired, Mackie was the most prepared, well-spoken, and insightful, who had command of the entire audience for hours. I think it's because Mackie has been there. He has been in the trenches. His training has helped many television stations become number one in their market. He's truly an expert in his field.
He was extremely professional through every phase of the project. He helped us plan topics that would be of value to our audience. He used numerous video clips of current events from the very stations in the room, so the audience remained intrigued. They left feeling they had actually learned something, not just listened to a 'motivational speaker.' I was particularly impressed by his meticulous preparation. He would come to the room hours before the presentation to make certain his materials were in place, the A/V was working properly, and everything was just as it needed to be to ensure a successful event.
Later we invited Mackie to train several members of our Executive team in Advanced Communication Skills and Executive Presence. Although a much different kind of training, he held 'the audience' just the same. These one-on-one sessions have been invaluable for our execs as they make presentations and communicate with others.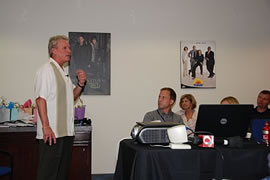 Photo by Dow Smith
KRISTI CLEMENS ROGERS
Former Deputy Commissioner U.S. Customs & Border Protection
Current President & CEO of Aegis LLC
When I was Assistant Commissioner of Public Affairs at U.S. Customs & Border Protection (CBP), in 2005 I sought out expertise in communication, presentations, and strategic planning. The search led me to Mackie Morris. Mackie's first task was to provide executive level training to CBP's senior leadership to prepare them for congressional testimony and regular national television appearances. Mackie excelled and as a result, so did our leadership; but this is not the real reason I hold Mackie in such high regard, as the best of the best, but more importantly a consummate professional with the highest integrity and professional standards.
The real reason is, at our request, Mackie continued with CBP assisting our Office of Public Affairs (roughly 40 + headquarters personnel and 100 + throughout the country) in a time of great challenge, both externally and internally. CBP is the U.S. agency responsible for everything – people, goods, and cargo -- entering this country whether legally across the land border or through airports and seaports, or illegally. Externally CBP's mission is enormous in scale and importance, and the challenge in 2005 ranged from increasing illegal border crossings, to terrorism, to Hurricane Katrina. Internally, CBP was still a very new agency made up of two very distinct and historic law enforcement organizations each with their very own engrained culture and history – down to different uniform colors, blue and green. At a time when our internal cooperation was imperative to deal with the external challenges facing our nation, we often confronted a "blue" versus "green" mentality.
Mackie led an effort to build our strategic plan, appreciate and respect each other's engrained culture, institutionalize cooperation, and re-energize how we communicated to the American people. In this effort Mackie designed and facilitated Office-wide annual retreats that consisted of day-long lectures, discussions, role-playing and team building exercises.
Following the retreats, Mackie was diligent with the recommendations and necessary actions. We blended the personnel within the Office of Public Affairs successfully. As a result, our two distinct organizations that were naturally prone to compete with each other grew to respect each other's mission and soon realized that each other's mission was critical to the ultimate goal of securing the homeland.
LYNN BRUBAKER
Retired VP and GM
Commercial Aerospace,
Honeywell International
Mackie has a great process and tool kit for significantly improving public speaking and presentation skills.
DAVID MARKS
Director, Group Premium
Operations Transamerica,
Life and Protection Division
Mackie provided a through, timely and entertaining look at the Generations at work.  The discussion of the Gen Y/Millennial generation was thought-provoking and enlightening.  It's a must-listen for anyone who wants to understand and appreciate what motivates and drives us all.
CANDY ALTMAN
Vice President,
Hearst Television
Mackie's Left-Brain/Right -Brain exercise is one of the highest rated sessions of our Producer Academy every year.  It gives the producers insight into how they process information and helps them better understand how important it is in news writing for the eye and ear to be in sync.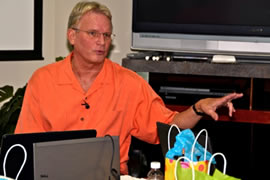 Photo by Dow Smith
P.D. SHABAY
Retired Executive Vice President & Chief Human Resources Officer,
Bell Helicopter
With over forty years' experience at Bell Helicopter, I have had the privilege of working with a number of elite consultants. As in every field, there are some that rise to the top. Mackie Morris proved to be one of the very best. He was asked to come into Bell Helicopter to work with a new Executive Team tasked with aligning and growing this team in terms of Advanced Communication Skills and Executive Presence. Working with the team in both group and individual sessions, Mackie provided guidance and inspiration to each member. With new found skills, our team developed the confidence to communicate competently as a group and as individuals in any situation.
As the Chief Human Resources Officer, I saw first-hand the success that Mackie brought to our Executive Team. With that knowledge, I expanded Mackie's services to include the individual mentoring of key executives and high potential employees. With his unique combination of unbridled enthusiasm and skill, Mackie effectively worked across our organization accelerating the development of our most important contributors.
The ability to proficiently communicate both verbally and through presentations has become a "must have" skill in today's corporate environment. I have met no one in the world that can coach those skills more dynamically than Mackie Morris.
ABC TELEVISION EXECUTIVE
New York
One of Mackie's unique offerings – and I've seen him do it many times with many groups – is a revelatory explanation of how we can help our brains help us speak and write better. He walks you through the differences between Left Brain and Right Brain processing, you learn something unique about yourself, and then that helps you use your instincts and intuition, as well as your intellect, when you communicate. He shows you how to generate those same spontaneous processes in your audiences as you communicate, how to have them sense and 'feel' your content so that they retain it better and can even act on it.
ABC-TV EXECUTIVE
Dallas
We had reams of solid research data and substantial guidance from various other resources. But we were missing a broader look at the issues that were imbedded in and across the various research findings. Mackie Morris had the unique ability to see how it all fit together, what the pattern was. From that analysis, Mackie was able to construct straight-on action plans that let us take advantage of our opportunities, improve where we needed to, and ultimately take control of our future success.

ROB BRECKON
Former SVP, Corp. Development,
MDS Inc.
We retained Mackie Morris to assist MDS with the divestiture of a number of our global businesses and in particular to help the executive teams deliver effective management presentations. Mackie's coaching skills and creative input enabled our teams to consistently and confidently deliver crisp, informative and polished presentations. This was key to our success in closing the deals.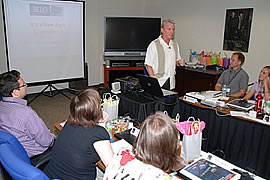 Photo by Dow Smith
MANAGING PARTNER
Large Professional Services Organization
I've known and worked with Mackie over the past 14 years, previously as an officer of a public company and currently as a managing partner of a large professional services organization. Recently, Mackie has worked with me on the execution of an executive development event for high profile emerging CXO's of some of the largest corporations in North America. Over the past year, we have held two events, each with over 100 attendees. Mackie played two key roles for me: The first was in the crafting and execution of my opening and closing presentations; the second was in and around the actual production of the event. His attention to detail and professional execution were exactly what was needed…and well appreciated. He choreographed the physical presentation, blending in my original content, and provided input on drafting the presentation slides…even adding the right humor where appropriate. For the event production, he directed the production

company where needed … chose the right entrance music and script, and crafted the "voice of god" announcer content. The event was highly rated by the attendees and viewed as a great success. As a result, the program will continue and expand.
LONG-TIME U.S. TV NETWORK AND
LOCAL NEWS EXECUTIVE
New York
Mackie's insights have always been invaluable in pursuit of great journalism and attracting viewers. His writing seminars never failed to have an immediate and lasting impact on the newsroom and our product.
FORMER NETWORK CABLE NEWS CLIENT
London, England
Mackie's understanding of television and his ability to teach the finer points of our trade to old hands and neophytes alike is second to none. His coaching and feedback is invariably effective, enduring, and inspirational.
PAT BAIRD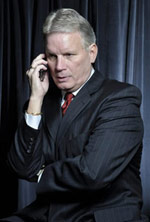 Photo by Jennifer Morris
Retired President and CEO, AEGON USA (Transamerica)
The reason Mackie excels for his clients is that, relative to others in his line of business, he has a real ability to understand your business and integrate that into his work for you. He is absolutely best in class when it comes to preparing executives for their crisis management responsibilities. With your management team, Mackie can bring to life real-world examples of both successes and failures to help drive his training home. Whether in front of media, participating in Congressional hearings, or even on the witness stand in front of a jury, I can honestly say that I apply what I learned from Mackie every time.